Some links on this page can be affiliate links meaning that, if you choose to make a purchase, we may earn a small commission at no extra cost to you. That helps to keep this blog running:)
Are you looking for the best sources to download digital and printable PLR planners? If so, you came to the right place, because here we are going to review the best websites where you can find original, high-quality PLR planners and journals for a good deal.
But before we get into the list, let's discuss what are PLR planners, and how you can use them.
What Are PLR Planners?
The planners can be designed to plan and schedule activities, goals, budget, diet, and plenty of other things. Many people enjoy planning their life either on digital or printed planners, so they are willing to purchase the assets that will help them to achieve their goals.
PLR Planners are done-for-you planners that you can modify, rebrand, and resell on Etsy, Shopify, or other various digital product selling platforms. You can also sell them as printables on Amazon KDP and other places. Thousands of marketers and entrepreneurs make a six-figure income while selling these products online, and the best part of it – you don't have to create anything from scratch.
Apart from selling PLR planners, you may also:
Use them for personal purposes
Give them away to grow your email list
Offer as a bonus or upsells
Sell in membership sites
Create print-on-demand products
& more…
To find out what exactly you can and can't do with a PLR planner, it's always recommended to check the product terms on each PLR provider as the terms may vary from site to site.
PLR Planners vs PLR Journals:
While browsing through our listed sources, you will notice that PLR providers like to combine these two product types into one category, and that's because they are similar in many ways. However, there are some distinctions between these products to consider.
The main difference is that the planner often has sections for each day as well as different times of the day, whereas a journal allows you to record your thoughts and experiences without being tied to schedules or formatting. The essential purpose of a planner is to help plan things, and the main purpose of a journal is to express thoughts and help to track things.
Despite the differences in use cases, both product types are in great demand right now, and there is enough money to be made while selling these items.
Best Websites To Download PLR Planners:
Now since we know what PLR planners are, it's time to discuss the best sites that provide original, beautifully designed PLR planners and journals which you can use for many purposes. By conducting this list we took into account factors like planner quality, pricing, and what is included in the package.
So without further ado, let's jump into the list:
When it comes to high-quality PLR planners, this website is at the top of the list.  Simple Happiness is a great PLR site that mostly focuses on providing well-designed and beautifully crafted planners that you can edit, resell or give away for free.
Currently, the product store packs 74 PLR products consisting of coloring & reading journals, academic planners, appointment books, and other types of products. Here you can find brandable planners and journals on various topics, such as well-being, animals, kids, cooking, traveling, mindfulness, business, productivity, and many more.
All planners inside this website are well-formatted and nicely designed using pastel colors that give the products a cute girly look.
Planners typically come with additional files that will help you to customize products, and those include covers, Canva and Powerpoint source pages, PDF files, printable formats, and font details.
Before purchasing the products, you get to access well-written product pages that come with planner descriptions, product use terms, and video demonstrations that showcase every single page of a planner.
Pricing:
Apart from selling individual planners, Simple Happiness also offers bundles allowing you to purchase multiple planners cheaper. Typically, the individual planners cost $27 each, and a planner bundle may cost anywhere from $37 to $47.
Check Out SIMPLE HAPPINESS
---
The Happy Journals is another great source for finding unique, nicely decorated PLR planner and journal templates. The website sells PLR for very good prices, and you can either buy them individually or in a bundle.
Currently, there are around 50 individual PLR planner and journal products, and you can find them in many niches. The products include not only printable PDF files but also digital files. There are also Powerpoint templates included, so you can easily customize whatever you need.
Here are some of the product titles:
Crystal Journal Templates
Blog Post Planner PLR Templates
Budget Planner PLR Templates
Vacation Planner PLR Templates
Oracle Card Journal Templates
Morning Pages PLR Mini Pack
Spring PLR Journal Templates
Recipe Printables PLR Templates
Self Love PLR Mini Pack
Blue and Gold Business Planner PLR Template
Money Mindset Planner PLR Templates
Study Planner PLR Templates
Autumn PLR Journal Templates
Health Planner PLR Templates
Learning Planner PLR Templates
Assignment Planner PLR Templates
Food Bullet Journal PLR Templates
Gold Goal setting planner PLR Templates
Food Printable PLR Templates
Spirit Guide PLR Journal Templates
Stream of Awareness Journal Templates
Happiness Planner PLR Templates
Working From Home Planner PLR Templates
Health and Fitness Planner PLR Templates
Content Planner PLR Templates
Law Of Attraction Journal Templates
Christmas Planner PLR Templates
Self-Care Planner PLR Templates
Social Media Planner PLR Templates
To-Do List Planner PLR Templates
Prayer Journal Templates
Business Planner PLR Templates
Winter PLR Journal Templates
Personal Development Planner PLR Templates
Teacher Planner PLR Templates
Summer PLR Journal Templates
Project Planner PLR Templates
Besides the high-quality individual products, The Happy Journals also sells PLR bundles that include not only printable and digital versions of products, but also other PLR content such as written prompts, covers, checklists, lead magnets, workbooks, stickers, and more.
Pricing:
The pricing for individual PLR planners or journals ranges from $7 to $12.95 each, and bundles cost around $27-$57 per pack.
Check Out HAPPY JOURNALS
---
PLR Beach beach sells a variety of commercial license products, including PLR planners, printables, and journals. The website allows you to either pay for individual products or access them on a membership basis. 
The founder of PLR Beach Becky Beach made sure that all products inside are original, beautifully designed, and come with full Private Label Rights.
There you can find planners on all occasions, including Christmas, Valentine's Day, Halloween, weddings, birthdays, and others. Also, there are enough planners covering various topics like weight loss, success, beauty, travel, positivity, pregnancy, self-care, and many more.
The planners typically come in various sizes and include multiple files so you can easily customize them or sell those files separately. Every planner will typically include PowerPoint & PDF files, clipart, JPG/PNG stickers as well as Photoshop pattern files.
The planner product pages contain a product video review with in-depth written descriptions so you clearly know what you are buying. Also, product pages define what exactly can and can't be done with each product.
Apart from digital and printable planners, PLR Beach offers product bundles, courses, and online coaching
Pricing:
As mentioned, PLR Beach not only sells PLR planners individually but also offers memberships providing monthly access to various products and online coaching. Here are the pricing options:
Pay-as-you-go:
Every planner on PLR Beach is priced differently, but on average, each planner with commercial rights costs from $17 to $37.
Memberships:
In case you would like to get monthly access to PLR planners and other products with efficient online training, then you can take a look at one of the membership options.
PLR Medic Camp – $47/month, comes with:
1 PLR Print Planner a Month

1 PLR Digital Planner a Month

140+ Digital Stickers a Month

1 Live Training a Month (will be recorded)

Private Facebook Group

S.M.A.R.T. Goals Workbook
Printable Seller's Bootcamp – $97/month, comes with:
1 PLR Print Planner a Month

1 PLR Digital Planner a Month

140+ Digital Stickers a Month

1 Live Training a Month (will be recorded)

Private Facebook Group

S.M.A.R.T. Goals Workbook

2 Weekly Group Coaching Calls

Accountability Business Tracking Spreadsheet System
Check Out PLR BEACH
(Use Code AFFILIATE25 & get 25% off!)
---
Createful Journals is a PLR store that sells nicely looking printable and digital planners. This store provides really beautiful done-for-you products that you can rebrand and self-publish on Amazon KDP, or list on Etsy, Shopify, or your own website store.
Createful Journals also allows its products to be given away for free, without giving the source files. In other words, you can give the products away without giving PLR rights.
Here you can find plenty of daily, weekly, and monthly planners covering various topics, such as – health, diet, weight loss, business, wedding, pregnancy, dogs & cats, self-development, and more.
With each planner, you can expect to receive editable PowerPoint files, multiple pages, and covers coming in digital or printable formats as well as stickers, fonts, hyperlinks, and other files.
Must also mention that Createful Journals delivers amazing product pages with in-depth descriptions of each planner and enough visual demonstrations of all contents inside.
Pricing:
The pricing depends on what is included in the planner, but it typically ranges from $20 to $47 for each planner.
Check Out CREATEFUL JOURNALS
---
As the name suggests, PLR Planners is home of beautifully designed printable and digital planners that you can freely edit and resell.
Founded by entrepreneur Diana Heuser, this product store offers nearly a hundred planners and journals dedicated to all occasions and various topics, such as children, pregnancy, self-help, fitness, diet, recipes, personal finance, and many others.
Here you can find daily, weekly, and monthly planners under the "Planners and Journals" category, and the site's menu allows you to conveniently sort items by digital or printable planners. Alternatively, you can use the search bar by inputting a keyword or theme to find your desired products.
Must mention that planners from this website are original and beautifully designed. They typically come in a package of PowerPoint documents, multiple covers, stickers, clipart, digital papers, inserted hyperlinks, and PNG/JPG files.
Talking about product pages, they come with great descriptions clearly explaining what is included in the product and what you can do with it. Product pages also have integrated showcase sliders that allow you to conveniently preview every single page of a planner.
The only minor disadvantage of this website is the user experience. The website loading speed is pretty slow, and it may take time for you to find what you are looking for. Other than that, PLR Planners can be an amazing source for finding great-looking planners, journals, and printables on many topics and occasions.
Pricing:
On average, each planner here costs $47, but the price may vary from product to product.
Check Out PLR PLANNERS
---
Coach Glue is a digital product store selling various done-for-you coaching materials, such as online courses, video scripts, journals, and planners. The website focuses on providing business and marketing products, therefore you can find many planners on various topics, such as Pinterest, Instagram, Facebook, and YouTube marketing, as well as podcasts, lead generation, content creation, financial freedom, productivity, and time management.
Although this website does not advertise as a PLR site, the planners purchased from here can be freely modified, printed, or resold for a profit online. You can also offer the planners as a bonus with already selling products or affiliate offers.
Must admit that the planners here come with outstandingly designed covers with well-formatted and good-looking contents inside. All planners come in a DOC format, which you can freely customize to your business and then save as PDF. The planners typically consist of 20-50 pages, and they do not include any additional files.
Before buying any planner on Coach Glue, you will get to access well-written product pages that are packed with in-depth information about the product and its terms. However, the product pages lack some visual demonstrations of the planner's contents, so you can't get a full idea of what you are going to buy.
If you cannot find the desired products in the planner section, you can also take a look at the done-for-you journal section, where you can find a few journals about self-love, dream business, rituals, and dream life.
Pricing:
Both planners and journals are being sold on this website for a fixed rate of $47 each.
Check Out COACH GLUE
---
For those focusing on a self-development niche, A Cup of Zen can be a real gold for finding hundreds of original PLR planners and journals.
This source focuses on providing planners for personal development coaches, yoga teachers, therapists, wellness advocates, and business coaches. Hence, here you can find well-crafted digital and printable planners on niches like – meditation, positivity, business, dreams, anxiety, the universe, astrology, and others.
All planners from this website come with Private Label Rights that allow you to edit and use products for many purposes, such as reselling online, or printing and distributing offline. However, there are some minor restrictions with each product that you may want to find out about on A Cup of Zen's product pages.
Talking about product pages, they are looking very well, and you get all the needed information about the products right away. The content on these pages clearly describes what each planner has to offer, and what you can do with it. There is also, enough visual information available to showcase the planner's content.
The PLR planers and journals from A Cup of Zen come in a package that may include products like planner templates, cover designs, and inner pages in Canva and PowerPoint formats, as well as backgrounds, graphics, or clipart in various sizes and resolutions. In other words, this store gives everything you need to resell your planner or a journal for great value or edit the contents with ease.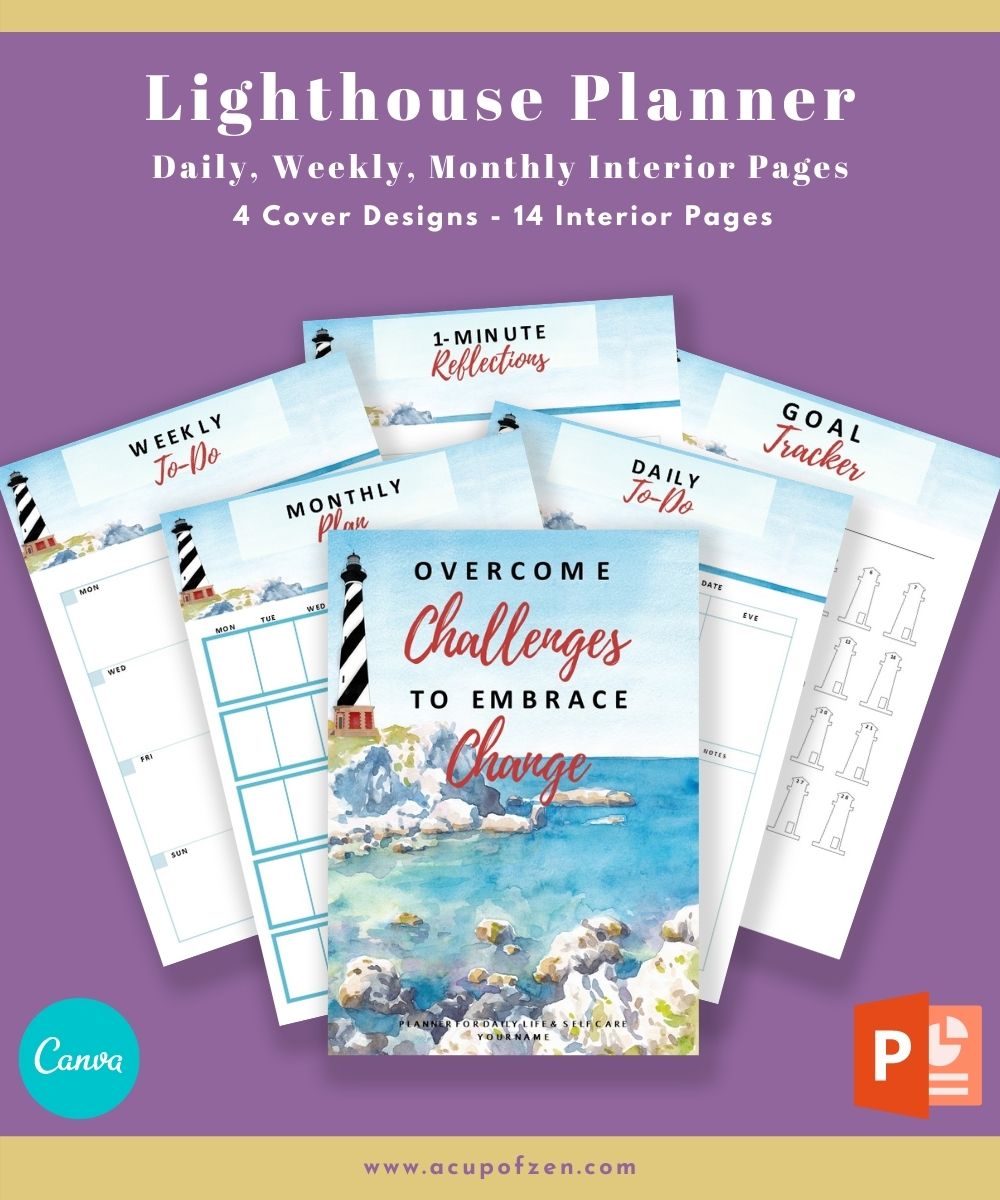 Pricing:
PLR Planners and journals are sold as packages here, and their pricing may range from $17 to $47 depending on package size. The nice thing about A Cup of Zen is that it gives a 100% money-back guarantee for all products, so you can claim your money back if you are not happy with your purchase.
Check Out A CUP OF ZEN
---
Here's another great source that features nearly a hundred original and nicely designed PLR planners, that are mostly targeted toward women. We can see that from the dominant pink colors used in the design, as well as from beautiful girly illustrations.
The planners found on this website cover the topics like fashion, mom, skincare, home, self-care, fitness, camping, plants, and others. As for occasions, Simply Couture Designs packs products on Thanksgiving, Christmas, and Valentine's Day.
Planners come with limited commercial use rights allowing you to create flattened planner printables in PDF format or physical end products to sell to your customer for personal use.
Unfortunately, Simply Couture Designs does not allow reselling its planners with PLR or any other rights or to give them away for free. Apart from that, there are some other minor restrictions, that you can find on each planner product page.
The planners typically come with a PowerPoint source file so you may alter the fonts with colors and personalize the pages with your own design. It also includes PDF files for printing or publishing the products online. 
Apart from planner templates, Simply Couture Designs also sells PLR line art, colored illustrations, and sticker templates.
Pricing:
While each planner is priced differently, the pricing typically ranges from $17 to $37 per planner.
SIMPLY COUTURE DESIGNS
---
Final Words:
If you are not planning to use PLR planners for personal use, then you can use them to grow your business and income. After editing and customizing planners to match your brand, there are several things that you can do with them – resell on various places, give away for free, or print and distribute offline.
After reading this article, we hope you have found the best source for downloading high-quality planners. And if you still haven't, all of the listed sources provide beautifully designed printable and digital planners for a good deal, so spare a minute to find the right products.
---
Frequently Asked Questions:
Q: Are Selling Planners Profitable?
A: Selling planners can be an extremely profitable method to earn income if done right. Some entrepreneurs claim to make $10,000, $50,000, or $100,000 of monthly income from selling planners alone. According to Google Adwords, the keyword "planners" are on a big trend right now, meaning more and more people are looking for digital and printable planners online. Digital planners are the most profitable assets as you can sell their unlimited copies without encountering extra manufacturing costs.
Q: How Do I Sell My Digital Planner?
A: You can sell digital planners are either from your own website or via Etsy, Shopify, Teachers Pay Teachers, and other e-commerce platforms. Also, self-publishing them on Amazon KDP is another great method of selling digital planners. After you list your planners for sale on one of the places, you can bring potential customers to your products by writing or filming a blog, being active on social media platforms, or running paid ads. Integrating affiliate systems into your product store is another great method to spread the word about your products and maximize sales.
Q How Do I Make A Digital Planner?
A: For making digital planners you should have at least basic graphic design skills. Digital planners are created using various applications and tools, such as Powerpoint, Photoshop, Canva, Adobe Indesign, Goodnotes, and others. Once you learn how to use any of these tools, then you can begin creating your first digital planner. Another, easier method of creating planners, is purchasing already made PLR planners and then changing them into your own.