Recently updated on July 13th, 2023 at 01:15 pm
Are you planning to sell digital products, or use them for your marketing campaigns, but don't have enough time to create everything from scratch?
If so, then Coach Glue may help you in many ways.
As content creators, we know how much it takes to create a high-quality content piece that you could present to your customers and audience with confidence. From endless hours of work and research to financial expenses for outsourcing, content and digital product creation can be a real struggle.
Luckily, there is an effective solution for that, and that is Private Label Rights (PLR) products. Throughout many years of online presence, we have tried and tested numerous done-for-you content providers, and that includes Coach Glue.
In this unbiased review, we are going to answer whether or not you should rely on this source for downloading brandable coaching products. We are also going to discuss any possible alternatives, so keep reading.
Quick Pros & Cons:
| PROS ✅ | CONS ❌ |
| --- | --- |
| High-Quality Evergreen Products | Small Assortment |
| Good Written Product Descriptions | Lacks Visual Demonstrations of Products |
| HOT Niches Covered | |
| Unique Product Categories | |
| Affordable Pricing | |
What Is Coach Glue?
The Coach Glue was created to help entrepreneurs, marketers, teachers, coaches, and everyone else who wants to educate their audience online. It was founded by Melissa Ingold and Nicole Dean – two marketers with a combined experience of over 30 years running online businesses. 
The creators clearly know the struggle of creating coaching content, therefore their main mission here is to help you to eliminate that struggle.
This platform can be a perfect solution for those who value their time in the business and don't want to spend countless days or weeks creating digital products from scratch.
According to CoachGlue, their done-for-you coaching content packages are packed with high-quality, professionally-written, and 100% customizable resources.
The platform provides several types of done-for-you materials, including planners, courses, blog posts, and other products on topics like self-improvement, business, sales, and marketing.
All content obtained from this platform can be used in almost any way you like, including rebranding, giving away, and reselling.
What You Can Do With Products From The Coach Glue?
Although Coach Glue provides done-for-you fully customizable products, this site does not brand itself as a PLR site, and there's a reason for that.
While you can sell the resell license of a PLR product to the end buyer, you cannot do this with the products from Coach Glue. In other words, you can only sell the content to your clients with personal use rights, and that is a good thing.
Coach Glue has stricter terms for its products compared to the other PLR sites, but it still allows you to freely modify, and resell the products.
Let's have a look at the comparison of what you generally can and can't do with Coach Glue's products:
What you CAN do:
Resell content to the end buyer with personal use rights

Modify, add, remove content or sell it as it is

Add your business name, logo, or redesign documents

Use content for your website, blog, newsletters, membership sites, and social media

Giveaway for free for the exchange to the email address

Use content as bonuses, or upsells

Package and sell with other products

Repurpose into other formats of media, including video, or audio

Publish and distribute offline as a workshop, or class
What you CAN'T do:
Pass original editable source files to the buyer

Claim that the purchased content of your clients can be sold or given away for free

Load Coach Glue's content as a Kindle book on Amazon (as it's against Amazon's terms)
As we can see there are more permissions rather than restrictions, and these restrictions are in place to essentially protect the value of the initial product.
What Products Coach Glue Offers?
Coach Glue offers 5 types of done-for-you coaching materials – Journals, Planners, Courses, Video Scripts, and Blog Posts.
Let's have a look at each category and what it has to offer:
Journals: 
Coach Glue features 5 journals, which are created with Canva and Word, so you can easily edit and customize the contents according to your needs. With each journal, you will receive an additional 20 journal prompts, which will give even more freedom and ideas for customization.
The journals consist of many pages and they seem to be designed at a high-quality level.
Here are the titles of the available Journals:
The Abundance Journal For Wildly Creative Women

Self Love For Wildly Creative Women

My Dream Business Journal

The Ritual Journal For Wildly Creative Women

My Dream Life Journal For Manifesting the Life I Want
You can either use journals in digital format or as printables. These journals can be great for free giveaways, upsells, and bonuses. You may also resell journals on various digital product marketplaces, including Amazon KDP (only if you change them into original).
Planners:
Coach Glue offers 19 done-for-you planners, that fall into topics, such as making money online, digital marketing, social media, and self-care.
Each planner is well-designed and consists of about 30-60 pages. You can also easily customize all planners as they come in Word Document format.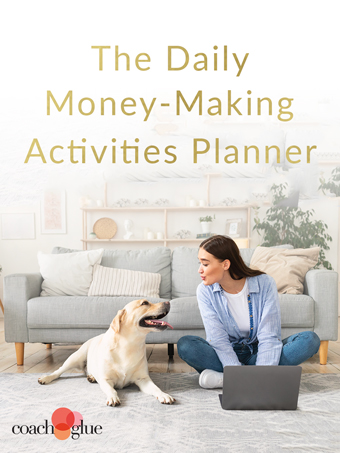 Here are the titles of the available Planners:
The Daily Money-Making Activities Planner

Tiny Viral Videos Planner

My 12 Month Life & Business Dream Planner

My Coaching Packages & Pricing Planner

My Membership Site Idea Planner

My Monthly YouTube Video Marketing Planner

My Course Content Planner

My Weekly Client-Getting Content Plan

How to Use Pinterest to Attract New Fans, Clients, and Sales!

Start Your Podcast Planner

How to Journal Your Way to the Life, Business + Income of Your Dreams

Self-Care Planner for Coaches and Entrepreneurs

Map Out Your Profitable Virtual or In-Person Client VIP Day in a Weekend!

Map Out Your 6-Figure Course Launch in a Weekend!

Map Out Your Monthly Email Content Calendar in a Weekend!

How to Position Your Business to Attract Your Dream 6-7 Figure Clients

Map Out Your Monthly Social Media Content Calendar in a Weekend!

Map Out Your Instagram Brand & Posts in a Weekend!

Facebook Live Script & Marketing Planner
These planners can be perfectly used for challenges in Facebook groups, case studies, email list growing, bonuses, and upsells. You can also resell them as digital or printed products.
Courses:
Coach Glue is one of the very few sources online that deliver complete done-for-you brandable courses (we will talk about another source at the end of this article).
There are 9 courses available at the moment, and each of them consists of 4 lesson models with plenty of student, sales, and marketing materials. With each course, you can expect to receive resources like sales pages, workbooks, worksheets, exercises, checklists, social media posts, livestream scripts, email templates, and blog posts.
We have purchased a couple of Coach Glue's courses in the past and can confirm that they are not only well-written but also well-researched and bring value. They also provide enough materials for efficient marketing of the course.
Here are the titles of the available Courses:
Sales Funnel Profits: How to Use the Power of Automation to Sell with Ease

Automated Courses: Create Your Dream Course and Get Paid for it Over and Over Again

Entrepreneurs Storytelling Bootcamp

Mindset Reset

Physical, Emotional, and Spiritual Selfcare Bootcamp for Entrepreneurs

Freedom Journaling! How to Write Your Dreams into Reality in Just Minutes a Day

Abundance Workshop: More Flow, More Money, More Fun

Money Empowerment Bootcamp: How to Release Your Fears and Limiting Beliefs to Create an Elevated CEO Mindset

Simplify Your Sales! The Ultimate 4 Step Sales Process for a 6-Figure Business
All materials come in Word documents, so you can easily customize everything to your own brand. 
After that, you can sell these courses to your students either from your website, or online course selling platforms. In addition, you can use separate course materials for free giveaways, bonuses, upsells, content on your blog, and other purposes.
Video Scripts:
This section provides everything you need to record an effective video training, webinar, livestream, or even podcast. You can also successfully use these video scripts for teaching in live events and summits.
There are 16 video scripts in total and each one of them includes a workbook that you can rebrand and deliver with the training. The professionally-written sales copy and 21 Facebook posts are also included to promote your video training.
Here are the titles of the available Video Scripts:
Soul Aligned! How to Step Fully into Your Purpose to Create More, Make More, and Live More

Recurring Subscriptions! How to Create a Membership Program that's Easy, Fun, and Profitable

Radical Shifts: How to Shift Your Limiting Beliefs and Tap into Your Divine Purpose

Distraction Action! How to Kick Your Distractions to the Curb & Boost Your Productivity

Unshakeable: Leaning into Unapologetic Messaging, Creation, and Selling with Confidence and Ease

CEO Mindset: How to Identify and Clear All the Fears & Blocks Holding You Back from Reaching Your Next Level

Forgiveness! 21 Days to Break the Cycle of Unresolved Pain that is Stealing Your Joy

How to Plan Your Social Media Content Calendar & Automate it with Ease

How to Turn Your Passion for Service into a Profitable Business

How to Organize Your Life, Home Office, and Routines for More Fun, Flow, and Happiness

Business Boundaries! When to Say Yes & How to Say No to Create a Healthier Relationship with Your Business

21 Days to Break Your Bad Habits and Create Good Ones for More Happiness & Success

How to Use the Power of Video in Your Business to Connect & Engage with Your Audience

Maximum Revenue! Discover Your Zone of Genius to Create a Low-Stress, Highly Profitable Business that You Love

Automation & Systems: How to Leverage the Power of Tools and Team to Free Up Your Time to Do More of the Things You Love

7 Ways to Manifest More Money in Your Business
All video scripts come in a step-by-step manner and each of them contains about 6000-7000 words. 
Blog Posts:
Blog posts come in packages, and each package consists of 10 to 65 articles. Currently,  there 9 blog post packages in total, and they cover the following topics:
Marketing

Business

Branding,

Making money

Lead generation

Social media

Productivity

Vision boards

Freelancing

Email marketing

Traffic

WordPress

Dreamlife

Self-publishing

& many more…
These professionally-written blog posts can be freely used on social media, newsletters, and blogs. 
However, if you are planning to use the articles on your blogs, it's highly recommended that you tweak and turn them into original blog posts, which passes the plagiarism check. Otherwise, you may not rank them as Google goest against the duplicate content.
Product Pages:
Before you purchase any product from Coach Glue it's important that you get sufficient information about it. For that, the platform delivers informative product pages packed with both written and visual information.
As for courses, which are the most expensive Coach Glue's products, you get to see detailed descriptions of all lessons and topics. You will also get to know which materials are included, and how many words each document contains.
There are also visual demonstrations showing the layout of each course, and how many pages it has. However, the informational part is blurred, and there's no video preview feature showing a better insight into a course.
The same applies to journals and planners. You will get to see plenty of written information about each product, but the visual demonstration of the products could be a little bit better.
Apart from the quite good product descriptions, Coach Glue also provides a lot of inspiring suggestions on how you could effectively use every product.
Pricing:
While for some people the products of Coach Glue might seem a little bit pricey, they still provide good value for money, and every single piece of the content here is created with care.
In fact, the prices for Coach Glue products do not exceed the average prices of other popular PLR providers, it's just this time, you are getting high-quality content.
Each product category is priced differently, and here's how much they all cost:
Journals:

$47 each

Planners:

$47 each

Courses:

$297 each

Video Scripts:

$97 each

Blog Posts:

$27-$47 per pack.
Do We Recommend Coach Glue?
As a team of marketers with long years of experience in the field, we understand the struggle and costs of high-quality content creation. Creating content from scratch can take countless days, weeks, or even months, especially if you don't have experience in copywriting or haven't researched the topic.
The good news is that Coach Glue has already done the hard work for you. They created numerous products, including courses, scripts, planners, blog posts, etc, which you can instantly access and legally use for your needs.
We are thankful to this platform for providing high-quality done-for-you products that bring value to people and help us establish ourselves as experts in the industry. Therefore, we can definitely recommend Coach Glue to your business.
However, despite the well-created, and fairly priced content of Coach Glue, the platform isn't perfect and has a couple of negatives. 
The products like courses or planners could be better visually described, but the main disadvantage of this source is that there are generally too few products. So you may have a hard time finding what you are looking for, especially if you are looking for done-for-you courses.
If it happens that you can't find your desired products on Coach Glue, there's nothing to worry about, because there are other alternative sources to look at.
The Best Coach Glue Alternatives:
Now it's time to cover three other great sources for finding done-for-you courses, and other coaching materials. So, if you feel that the Coach Glue is not really right for you, then we suggest you take a look at the list of the following platforms.
And if you are looking for-done-for you planners, you can check out our article where we discuss the best sources for finding PLR planners.
Without further ado, let's get to the alternatives:
Content Sparks is another website dedicated to coaches, educators, and online businesses, but this time, the platform mainly focuses on providing done-for-you courses.
Content Sparks is a truly reputable source for finding high-quality white label courses on business, personal development, sales, and marketing topics, and you have the full rights to modify, rebrand, resell or use the contents separately in many ways.
Compared to Coach Glue which only offers 9 white label courses, Content Sparks has over 250 of them. The creators clearly took time creating every single coaching piece for you, and we can see that from the well-written information provided inside as well as from sufficient research done behind each topic.
Courses from Coach Glue and Content Sparks are very similar and they all come with course modules and lessons. They also contain numerous coaching materials, including:
Course Books

Cheatsheets

Action Guides

Snapshot Templates

Spreadsheets & Worksheets

Social Media & Blog Posts

Email Follow-Ups

Module Quizzes

Sales Pages

Editable Graphics

Cheatsheets

Slideshows

Speaker Notes

Infographics

Assessments

Planners

& many other resources
The difference between these two platforms is that Content Sparks provide PowerPoint slides and speaker notes with each product, so you can easily record a video course from the given materials.
Also, here you can find better visual demonstrations of each course (with a video walk-through), so you get a better idea of what you are going to buy.
Pricing:
Talking about the full-funnel courses, they cost the same as the courses on Coach Glue, but Content Sparks has more coaching products.
Here are all categories of products and their pricing:
Blaze content:

 These are full-funnel courses that give you everything you need from start to finish, and they cost $297 each.

Beacon content:

These are smaller than Blaze courses, and they are perfect for self-study, webinars, and masterclasses. The prices for these products range from about $47 to $147 for each course.

Flash content:

This category

only provides singular coaching materials, such as reports, worksheets, blog posts, email sequences, etc. The pricing for these products typically ranges from $19 to $47 for each resource.
Unlike the Coach Glue, Content Sparks offers a 7-day money-back guarantee, so you can buy products with greater confidence and less risk.
When it comes to high-quality done-for-you content, PLR.me is one of the best sources on the list. The platform specializes in providing separate coaching materials about health and wellness while offering 10 complete done-for-you courses too.
Currently, there are over 16,000 brandable resources, dedicated to confidence, self-care, relationships, weight loss, parenting, money management, business, and many other niches.
The content comes in a number of product categories, such as 
Action Guides, Handouts & Lead Magnets

Affirmation Reflections

Articles & Blog Posts

Courses, Coaching Programs & Workshops

Checklists

Fables & Short Stories

Reports & EBooks

Slide Deck Presentations

Worksheets
All the materials are created by the website's team of native English writers, therefore you can expect to receive high-quality, well-written, and unique products.
Not to forget – all content purchased from this site can be freely modified, resold, and given away. 
Pricing:
PLR.me operates on a credit system, meaning that you will have to purchase credits first, and then use them to download the products. 
The pricing depends on the category that the products fall into, but here's how much the products cost in some of the categories:
Articles & Blog Posts – 1 credit 

Affirmation Reflections – 1 credit 

Action Guides & Lead Magnets – 2 credits 

Worksheets  – 1 credit 

Checklists – 1 credit 

Reports & Ebooks – 5-10 credits

Complete Courses – 50 credits
The price per credit ranges from $0.4 to $2.20, and the more credits you buy at a time, the more discounted they will get.
Last but not least, PLR Database is another great source for finding decent PLR materials. Unlike the Coach Glue and other mentioned sources, PLR Database is a membership site where you get to unlimitedly access all products for as long as you are subscribed. 
Such a membership system can help you save tons of money in the long run, especially if you need a lot of brandable resources.
There are over 26,000 done-for-you products, and they come in the categories of:
eBooks

Articles

Videos

Graphics

Software

Audios

Packages

Scripts

Websites
Note that not all content from PLR Database is brandable, as there are plenty of products with Resell and Master Resale Rights too. In order to find a product that you could modify before selling, only look for the products that come with Private Label Rights.
Pricing:
PLR Database offers three affordable membership options – for a month, 3-months, and a year.
Here're the pricing options:
1 Month –

$10

3 Months –

$25

1-Year –

$49
As covered, PLR Database enables members to access all content without restrictions for as long as they are subscribed.
Paul Lian is a researcher, writer, and founder of WayToChanges.com. With over eight years of experience in blogging, digital marketing, copywriting, and digital products, he has built multiple six-figure income streams. Through his blog, Paul shares his best expertise, strategies, and tools to help readers achieve financial freedom and success in their own digital ventures.